There are many reasons someone would want to follow the activity of a case. Obviously, the plaintiff's and defendant's council will want to know of any transaction so they can promptly react and inform their clients. Attorneys, Paralegals, and other legal professionals may also want to track noteworthy cases that impact their service, or follow cases to scout for potential clients.
Occasionally, journalists, media members, or even the general public may want to know when items are filed in high-profile cases as well. What happens in the courtroom often has a broader impact on society as a whole. More than just those in the legal industry may want to stay actively informed.
No matter your reason for interest though, the easiest way to follow a case is by setting up an Alert. Alerts allow you to receive transaction notifications right into your inbox. Here, we will review setting up Alerts using the File & ServeXpress platform and other ways you can stay informed on a case.
Creating a New Case Alert
If you are not already registered with File & ServeXpress, you can register here.
Once you register, go to the Alerts page in-app, and select the "Create New Alert" button:

This will lead you to the Alert creation form, starting with the "Alert Setup." Here, you create the Alert name, add a billing reference, and can toggle the Alert off temporarily. Beyond that, we have added two features to make Alerts easier to use:
Setup email notifications: Alerts don't help if you can't see them, and it's unlikely you will spend every hour of the day in the File & ServeXpress application. Email notifications will forward the Alert to your inbox. As long as you plan to check your emails, you can stay informed.
Share the Alert: If you work with other people, chances are they need to stay informed on the case as well. You can share the alert with other members of your firm by selecting their account in the "Select Party" list. This way, you don't need to be the sole source of information for any particular case for your entire firm; everyone can stay in the know.
These simple features make a big difference in Alert usability and are simple to activate. A simple toggle and a party list are all that's necessary:

Once you've made your selections, you'll move to the "Case Information" section. Here you can select one or multiple cases to track with the Alert:

If you don't know the exact case name, press the "Find" button next to the "Case" field. This will pull up a pop-up menu where you can find cases through a text search. Simply select the court and type in any party name you remember or the case number:

Once you make a selection, the "Case Information" menu will update with its necessary information filled out:

Next is the "Document Information" section, where you can narrow down which documents trigger Alerts. Specifically, you can choose specific document types to track (i.e.: types of motions, orders, stipulations, etc.) or write in a full/partial document title. Of course, if you want Alerts for every document in the case, you can simply leave the section untouched.

Finally, there is the "Party Information" section. Here you can filter notifications further by Attorney, Judge, Served Party, and more. But keep in mind, the more filters you add, the less alerts will trigger. Be careful not to use too many and risk missing important transactions.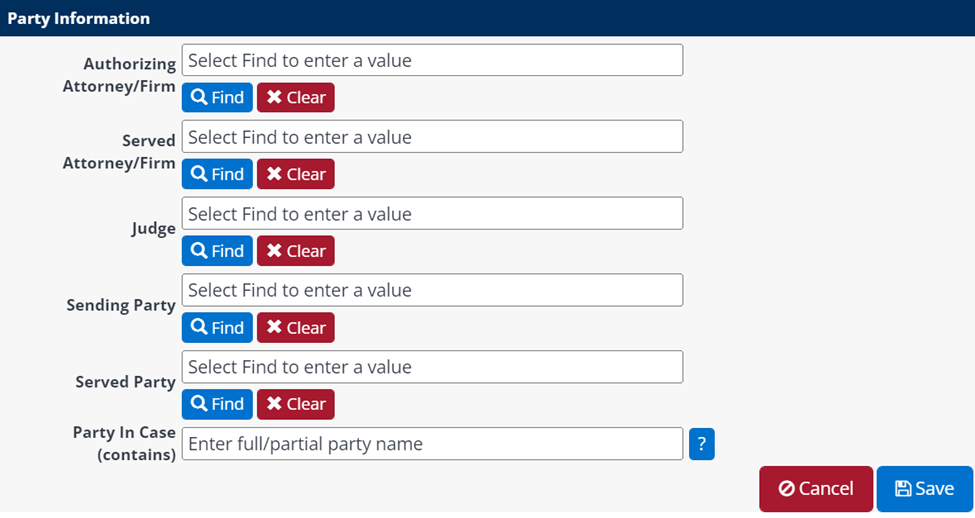 Once you've selected all the options you want, click the save button, and the notification is active.
Moving Past Alerts to Document Research
Alerts help you know when a new item is filed, but what if you want to find previous information from a case? In that scenario, you can use the built-in searching tools to find what you need.
File and ServeXpress has five searches available in our Search menu:
Case History: A record of the transactions throughout the case.
Cases Search: Find a list of Attorneys, Firms, and Parties involved in a Case.
Daily Docket: Search for all transactions filed in a particular court for a single day.
Transaction Status: Find the status for specific transactions.
Advanced Search: Find specific documents/transactions.
For example, here's the search menu for our "Advanced Search:"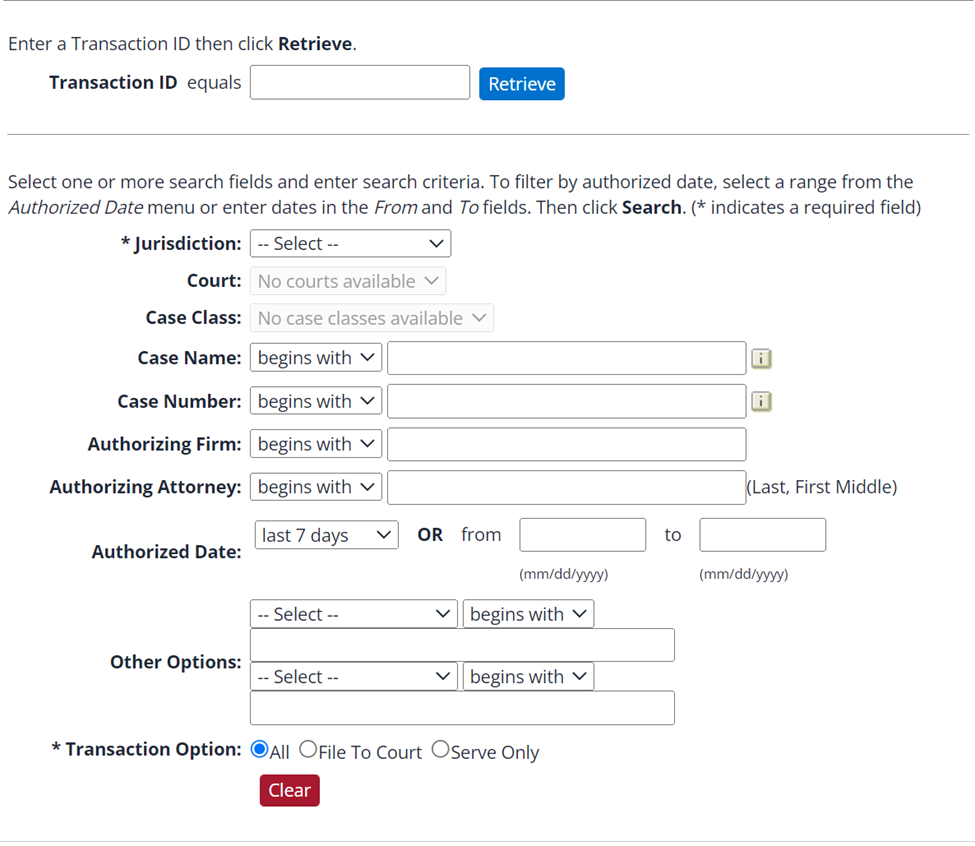 Using these searches, you can easily brush up on a case and find the information you need.
File & ServeXpress Makes It Easy to Stay Informed
Whether you are an active participant or reporting on the case, File & ServeXpress provides you with the information you need when you need it. You can register for a File & ServeXpress account here, and feel free to contact our 24/7/365 customer support team with any issues or concerns.